C-BEAMS Products and Services
C-BEAMS name has been derived from the first letter of Cellular and Castellated beams and one significant characteristic of castellated beams. Why is the name castellated important? Castellated comes from a Latin word that means: to structurally fortify. C-BEAMS products are engineered from structural steel shapes and plate that provide fortification solutions to constructors of buildings and manufactured products. C-BEAMS product line includes Cellular, Castellated, D-Beams@girders and custom manufactured sections. Supporting the C-BEAMS products are an experienced team that engages early with clients, as often as needed, provides design assistance, and project management services to assure our products' value and customer satisfaction.
Cellular Beams
Cellular steel beams have circular patterns in their webs and are designated as LB sections in the American Institute of Steel Construction (AISC) Design Guide 31. Their design uses steel efficiently to achieve long spans ideal for routing of mechanical systems within buildings. Safe open illuminated spaces perfect for parking garages, bus terminals and assembly buildings, are standard design feature incorporated into all cellular beams. Cellular beams are routinely galvanized or painted to offer an attractive appearance enhancing visible building structures appearances while maximizing their life cycle. Cellular beams strength, appearance, spans, and overall value make them solutions that enhance many building applications.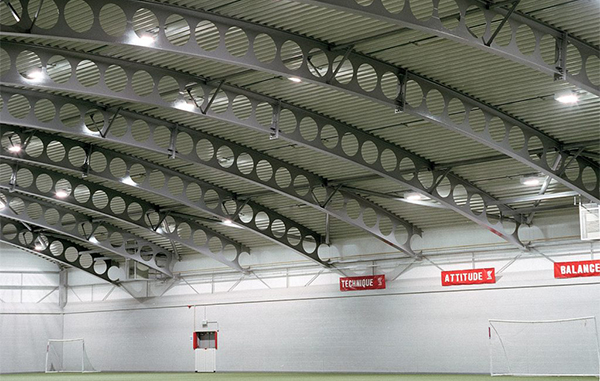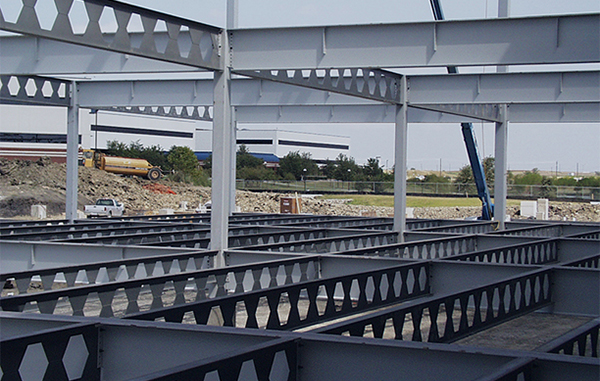 Castellated Beams
Castellated steel beams have hexagonal patterns in their webs and are designated as CB sections in the American Institute of Steel Construction (AISC) Design Guide 31. The principle advantage of the steel beam castellation process is that you increase the depth of a beam to increase its strength, without increasing its weight. So when it comes to maximizing load bearing capacity, the castellated beam is highly steel efficient. Through castellation, you can increase the length of the beam to create wide-span and wide-open bay designs. Castellated beam characteristics make them ideal for almost any structure that seeks to minimize foundation and column costs while maximizing any structures open spaces. Castellated beams are provided painted or galvanized to maximize their lifespan. Castellated beams fortified strength, appearance, spans, and overall value make them ideal solutions to consider for many building applications.
The D-BEAM® girder
A structural steel alternative to flat plate concrete is the GIRDER-SLAB® system that utilizes a unique low profile steel beam known as the D-BEAM® girder.
C-BEAMS supplies fabricated D –Beam girders. We work with fabricators on your projects! C-BEAMS makes it easy to allow you to focus on the frame and erection parts of the project. While C-BEAMS takes responsibly for the D-Beams component of the project. We offer fixed pricing that satisfies your budget and adhere to your delivery schedule needs. Our shipments are directed to the end job site, marshaling yards or fabricator plants. Our beams are provided with connections or in pieces without connections. We also provide camber as needed and fabricate all sections listed within the most recent edition of the Girder Slab design guide. C-BEAMS fabrication efficiencies enables us to produce these sections from an efficient production layout that provides structural fabricators economical pricing and superior quality.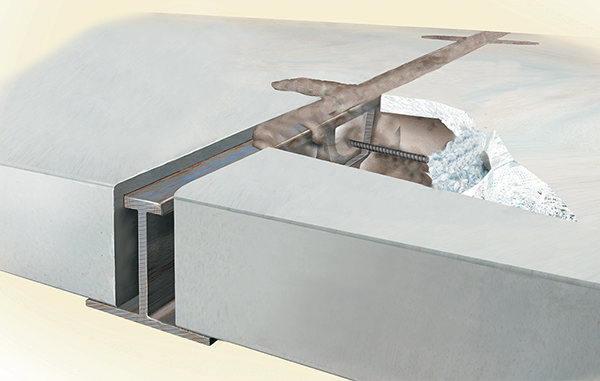 Customized welded sections
C-BEAMS experiences with Castellated, Cellular and D-EAM@ girder sections provides any consumer of steel, opportunities to engage us in design assistance, and manufacturing of sections of varying depths and lengths. Rail, ship and highway applications lend themselves well to C-BEAMS solutions and product supply. No span and depth of section are too shallow, or tall, and short, or long for the C-BEAMS company. To learn more about these opportunities please contact the C-BEAMS company.